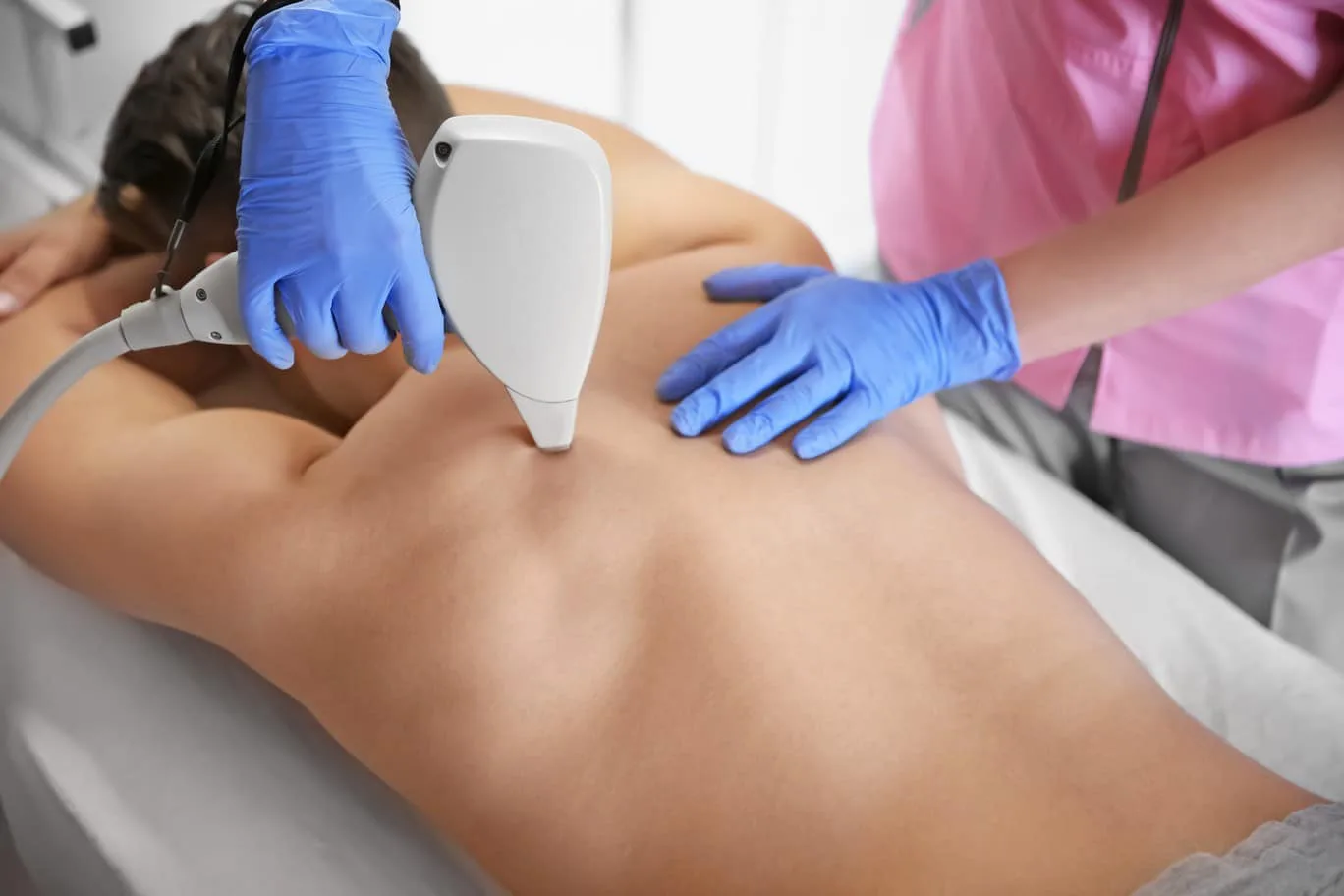 There is nothing more frustrating than having to contend with a large amount of unwanted hair growing on your back. If your back hair makes you feel embarrassed or uncomfortable, then you have likely tried to rid yourself of the excessive hair by waxing or shaving. Not only is the back a difficult area to reach without assistance, but waxing and shaving are often ineffective ways of keeping unwanted hair under control.
Laser hair removal is a popular alternative to shaving and waxing. There are many advantages to opting for laser hair removal, including pain-free treatment sessions and long-lasting results. If that sounds appealing to you, keep reading for an overview of back laser hair removal and why it might be right for you.
What Areas Are Included with Back Laser Hair Removal?
Back laser hair removal will start at the bottom of the neck, where the upper back begins, the backs of the shoulders, as well as the entire back, where it meets at the top of the buttocks. 
However, if there are other areas that you would like to be treated, then they can be incorporated into your laser hair removal plan. Let us know during your consultation if you'd like hair removal on other surrounding areas so we can plan your treatment accordingly. 
Is Laser Hair Removal for Your Back for Both Men & Women?
Yes, laser hair removal for the back is for both men and women who no longer want hair in this area. However, women typically don't have as much hair in this area as men do. In some cases, women can sometimes suffer from hormonal imbalances that could lead to the growth of excessive back hair. Regardless of why back hair has become a nuisance, laser hair removal for men and women is available.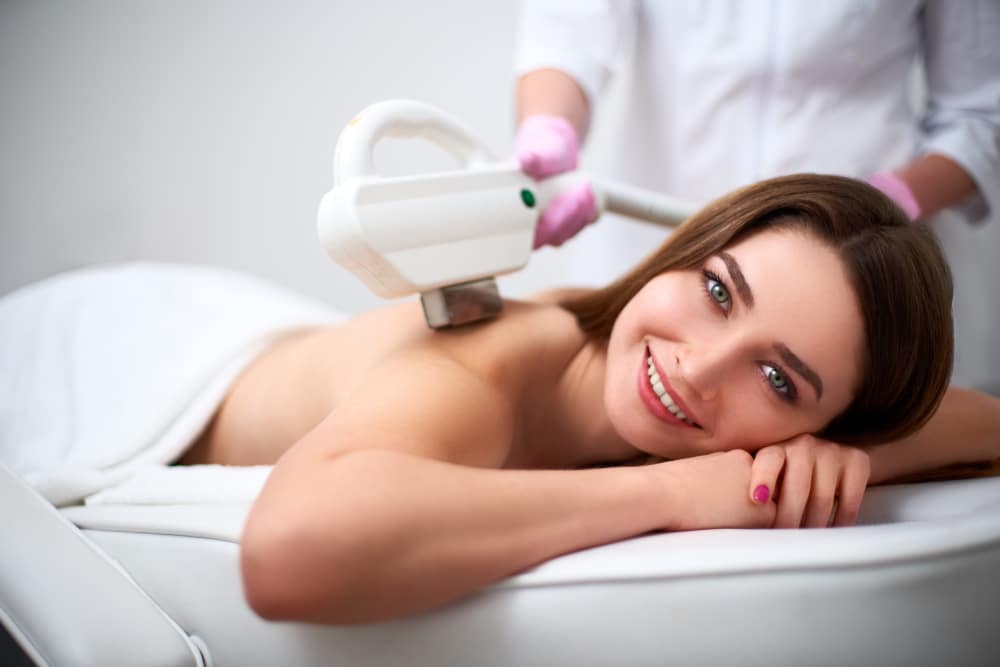 Is Laser Hair Removal Safe For Back Hair? 
Laser hair removal has been around since the '60s, but it has come a long way since then. It used to be significantly riskier to use laser technology. However, due to the technological advancements in laser hair removal in general, it is considered a safe procedure. 
When you undergo treatment at LivSmooth, you can expect safe laser hair removal for back hair. In fact, LivSmooth's laser hair removal technologies are considered state-of-the-art for the highest level of care and patient safety.
Aside from the normal temporary redness and slight irritation that you might experience from laser hair removal on your back, there is no need to worry about any permanent side effects.

Is Laser Hair Removal for Your Back Painful?
It was true, in the past, that laser hair removal was considered painful for some people, especially in the back area. Fortunately, LivSmooth's cutting-edge lasers are specially developed to ensure a pain-free experience. We pride ourselves on providing a pain-free laser hair removal experience. While our laser works, it also provides cooling to the affected skin, eliminating the pain traditionally associated with back laser hair removal.
You may experience mild redness and discomfort for the first few hours after treatment, but it should subside shortly.
How Does Laser Back Hair Removal Work?
Laser hair removal is performed using an advanced laser that uses light to heat and destroy the hair follicle. When the hair follicle is heated by the laser, it damages it, preventing future hair growth.
Laser hair removal for your back is performed in a series of sessions. Each session will get you closer to your desired results. Typically, people need six or more sessions to fully remove hair.
How to Prepare for Laser Back Hair Removal
It is necessary to properly prepare for your laser hair removal sessions. The better prepared you are, the quicker you will notice the amazing results that laser hair removal on your back will provide. First of all, you need to refrain from waxing prior to your treatment. Approximately three to four weeks before your hair removal session, you should stop waxing. While this might be inconvenient, especially if you're waxing regularly to keep your hairy back under control, it's a sacrifice that you must make.
Laser hair removal works by targeting the hair follicles, which prevents re-growth of hair. Waxing also removes hair from the follicles, although the hair does grow back in a few weeks. So, if you have recently waxed before your hair removal session, then the laser won't know where to target. This is why it's very important to refrain from waxing for the recommended period of time before your laser hair removal session.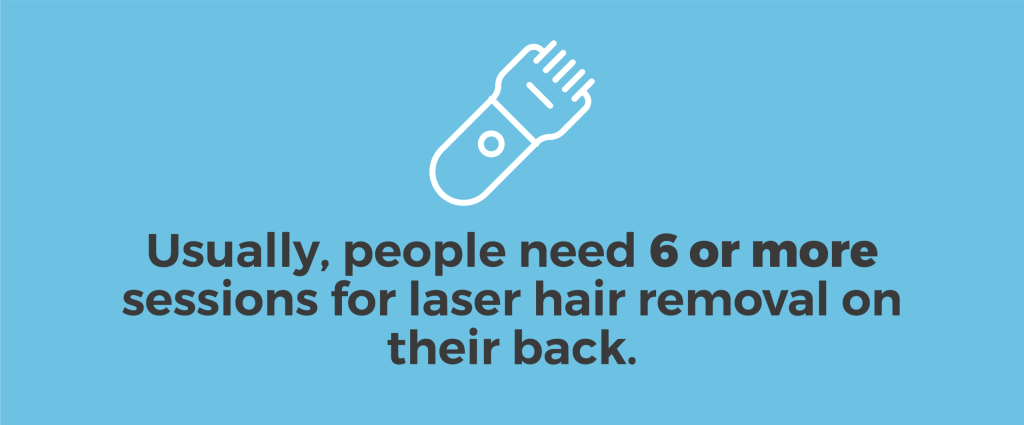 Another thing that you need to do in order to prepare for your laser hair removal session is to refrain from using suntan lotion, tanning beds, and exposure to harmful UV rays. It's important to wear SPF whenever you're venturing outdoors to prevent hyperpigmentation and blistering. It's best to start practicing sun safety at least six weeks prior to your laser hair removal session for the best results.
Furthermore, you should avoid plucking and tweezing hair from your back area for six weeks or more in advance. While many people don't pluck or tweeze hair from the back because it is quite painful, some men simply withstand the pain in order to become hair-free.
Shaving 24 hours before your laser hair removal session is acceptable and often even advised, as razors don't remove hair from the follicles. When shaving, just make sure to use a clean and possibly even a new razor each time. If you use a dirty razor that has been contaminated with bacteria, you face the possibility of developing some type of skin infection that the laser session can only exacerbate.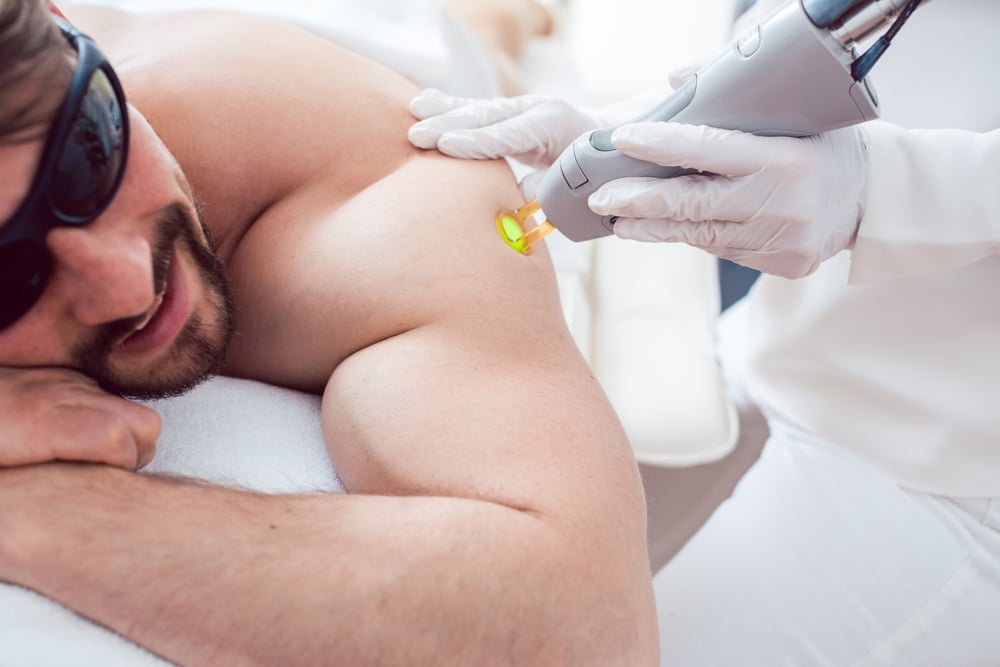 On the day of your laser treatment session, you should refrain from applying any creams or lotions to your back, which could interfere with the function of the laser.
Is Laser Hair Removal for Your Back Permanent?
It is true that laser hair removal is permanent, although stray hairs do sometimes regrow over time. If you undergo back laser hair removal at LivSmooth, you don't have to worry about paying extra for additional sessions should you notice stray hair growing back. 
Your professional hair removal technician will advise you of the recommended number of sessions necessary for complete and permanent hair removal to help you achieve your desired results. Once you have completed the recommended number of sessions, if you notice stubborn hair returning, you can come back to LivSmooth for touch-ups that are included in your treatment.
Back Laser Hair Removal Cost
Laser back hair removal cost will differ from person to person, as many individual factors are taken into consideration when planning treatment. First of all, the size of your back must be taken into consideration because that will determine the dimensions of the treatment area. Additionally, we'll need to consider the amount of hair that needs to be removed. This is why a cost estimate can't be given prior to evaluation. 
Another thing to consider is whether you'd like to treat other areas at the same time so that it can all be included together. During your consultation, we can provide you with a quote for laser hair removal on your back based on your specific treatment plan.
Common Laser Hair Removal Areas Paired with Back Hair Removal
Many people are interested in having laser hair treatments on other parts of their bodies than just their backs. Some common parts of the body that are often paired with back hair removal are the back of the neck, chest, and abdomen. However, it's up to you where you want to have laser hair removal.
Why Choose LivSmooth for Laser Back Hair Removal
At LivSmooth, we go above and beyond to ensure that each patient's experience is similar to being at a spa. It's normal to feel trepidation when undergoing laser hair removal for the first time, but our friendly and knowledgeable staff know exactly how to make you feel comfortable and at ease.
We use the most technologically-advanced lasers and other equipment in our office to ensure a smooth and hassle-free session every time. We also invest in ongoing research, so we're able to remain on the cutting edge and up-to-date with all practices within the industry. We pride ourselves on providing each patient with a customized treatment plan.
In the past, it was challenging to perform laser hair treatment on people with darker skin tones, but that is a thing of the past. We are now able to provide treatment for people with many different skin tones and hair types thanks to the advanced technology we've invested in.
Learn more about LivSmooth and how we can make your back laser hair removal the best possible experience.
Schedule Laser Hair Removal for Your Back Today
If you're tired of dealing with unwanted back hair, schedule your consultation with us today. You can soon be on your way to having a hair-free back that helps you feel more confident in your body.