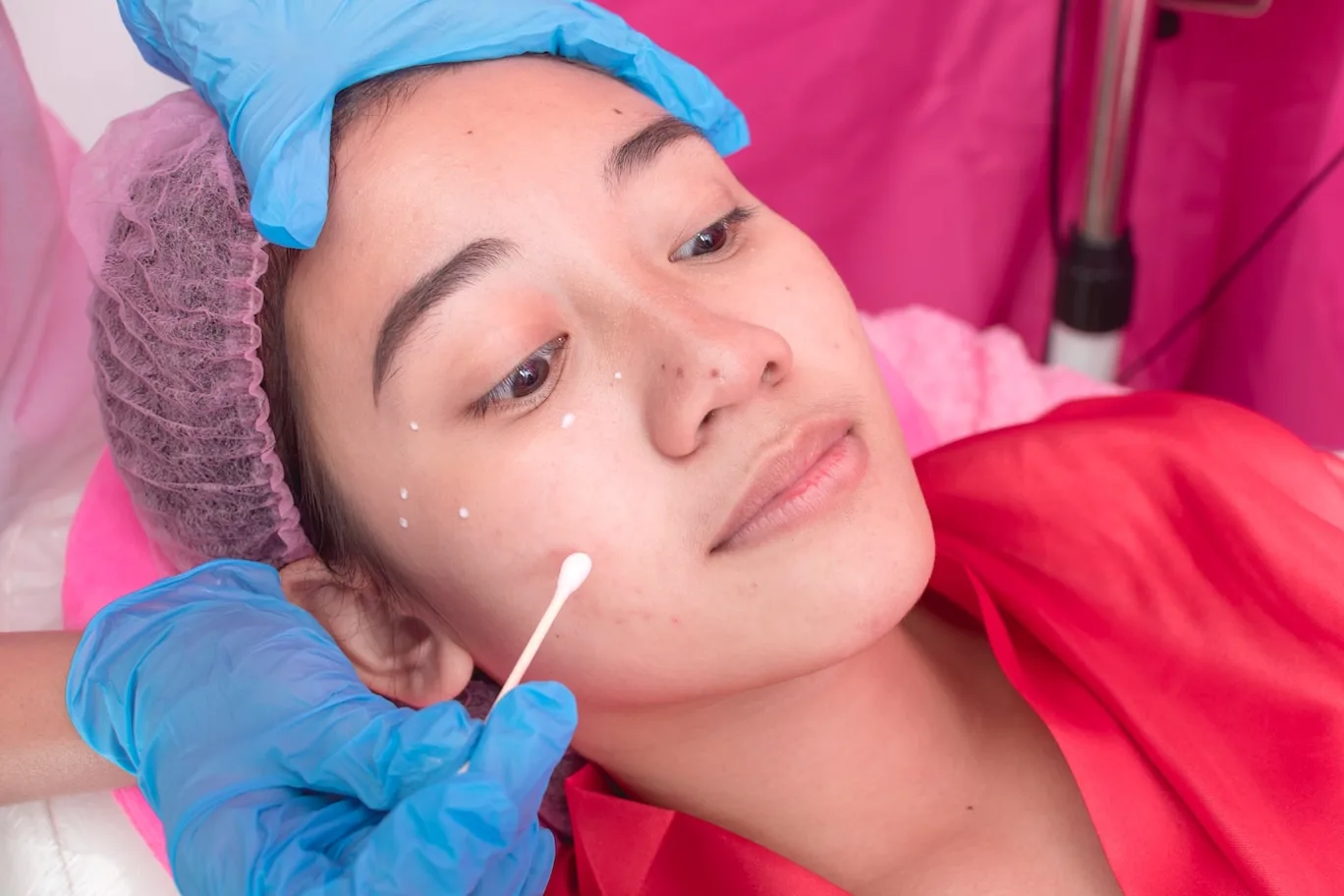 Do You Need Numbing Cream for Laser Hair Removal?
The short answer is, no, you don't need numbing cream for laser hair removal. However, even though that's a definitive answer, it also depends on your personal pain tolerance if you need skin-numbing cream for this treatment.
Laser hair removal technology has advanced to a point where the discomfort is non-existent or minimal, and many patients find they can tolerate the sensation without needing numbing cream. In the event you have sensitive skin or can't tolerate the discomfort, then yes, you may want to use numbing cream prior to a session.
Numbing creams are safe to use during a laser hair removal session. The main ingredient used in numbing creams is lidocaine, but some creams contain other numbing ingredients to ensure their effectiveness. You can use numbing cream for laser hair removal, but you should always discuss its use with the professional who's performing the treatment.
Keep reading for an overview of the use of numbing cream for safe laser hair removal, the different types of creams, why it may not be necessary, and what you can expect from them if you decide to use a numbing cream.
Should You Use Numbing Cream for Laser Hair Removal?
Yes, you can use numbing cream for laser hair removal, but you don't necessarily need to use it. It might be recommended for certain areas of the body that are known for being sensitive and for those who have a low pain tolerance. 
You may find that you don't need to use a numbing cream because the discomfort is minimal. Some hair removal providers use lasers that cool the skin during treatment, which reduces discomfort even further.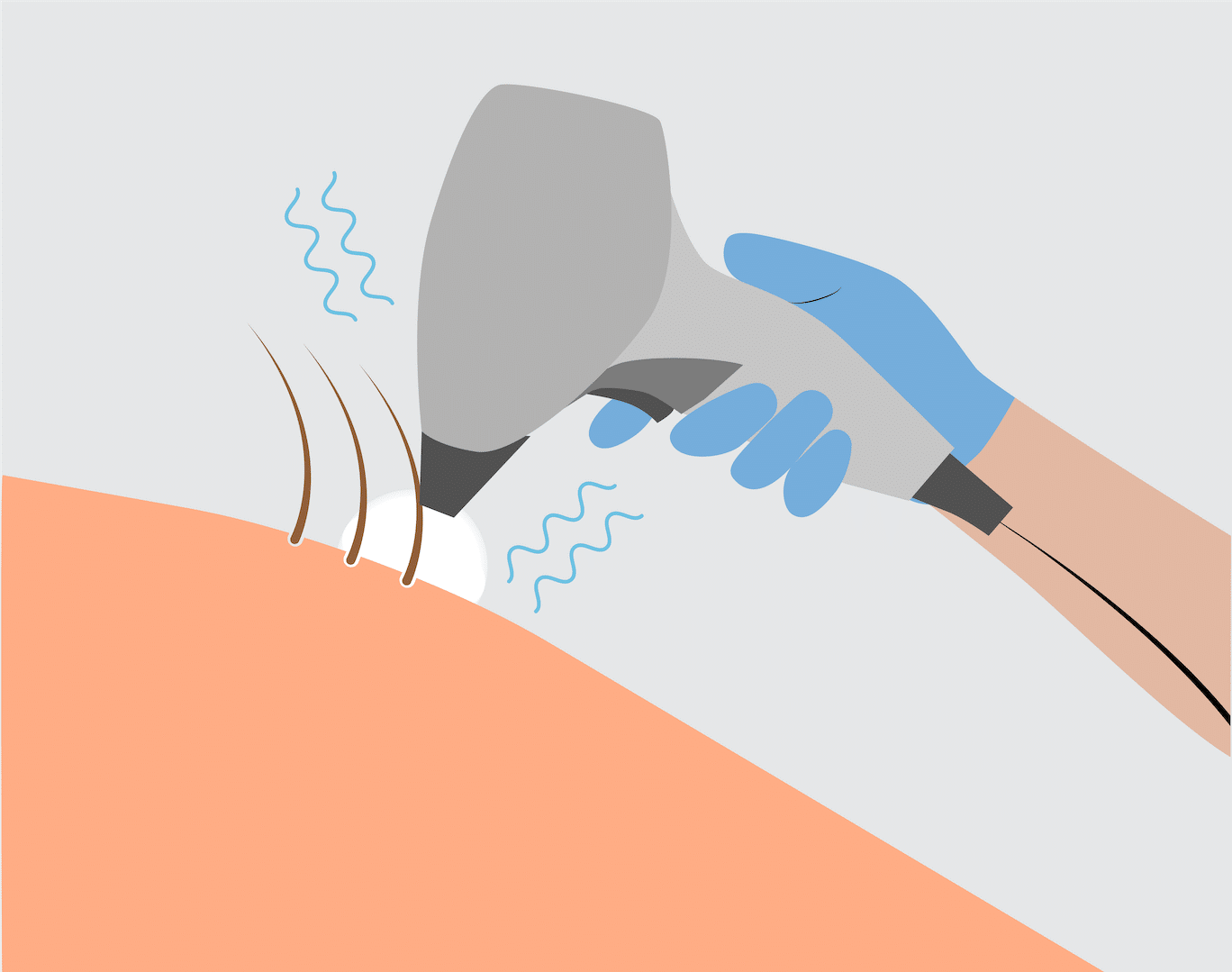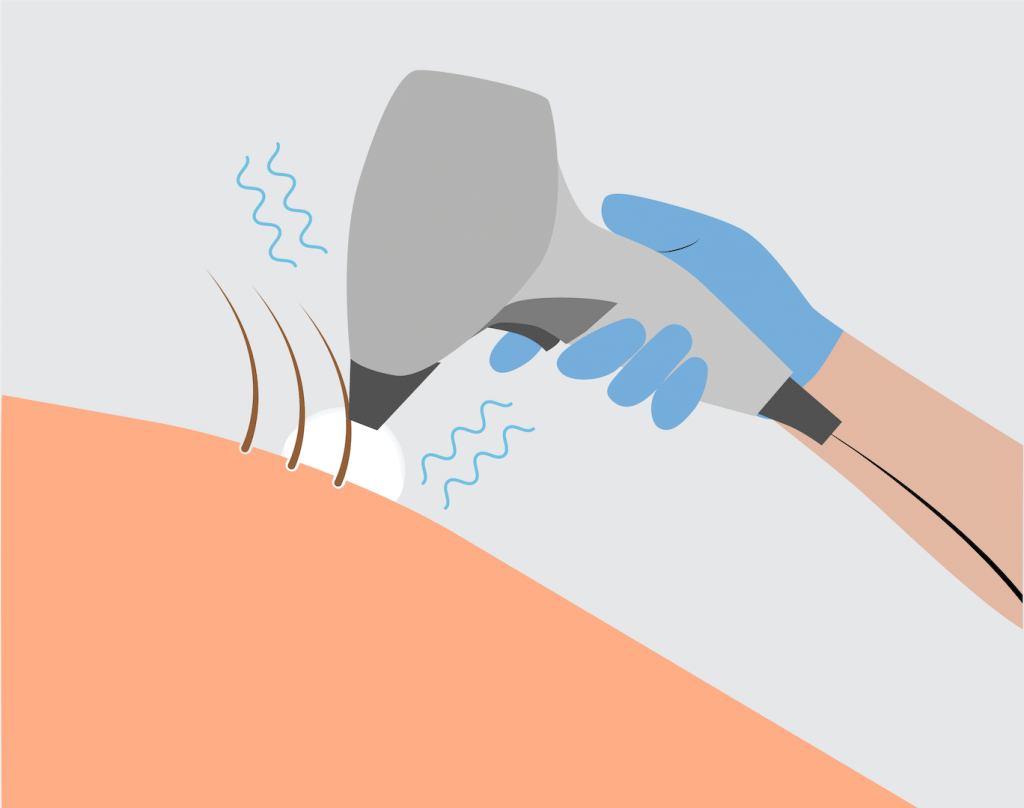 It's worth noting that the pain of laser hair removal is generally considered to be significantly less than treatments like waxing or even electrolysis. Electrolysis uses a short burst of electricity to kill off the root of the follicle. Patients are required to use numbing cream prior to a session, but it's not always necessary for laser hair removal.
Can you use numbing cream for laser hair removal to reduce pain during treatment and ensure maximum comfort? Yes, you can, and it's safe to use. Ask your provider about obtaining numbing cream before your session so you can be prepared prior to your arrival.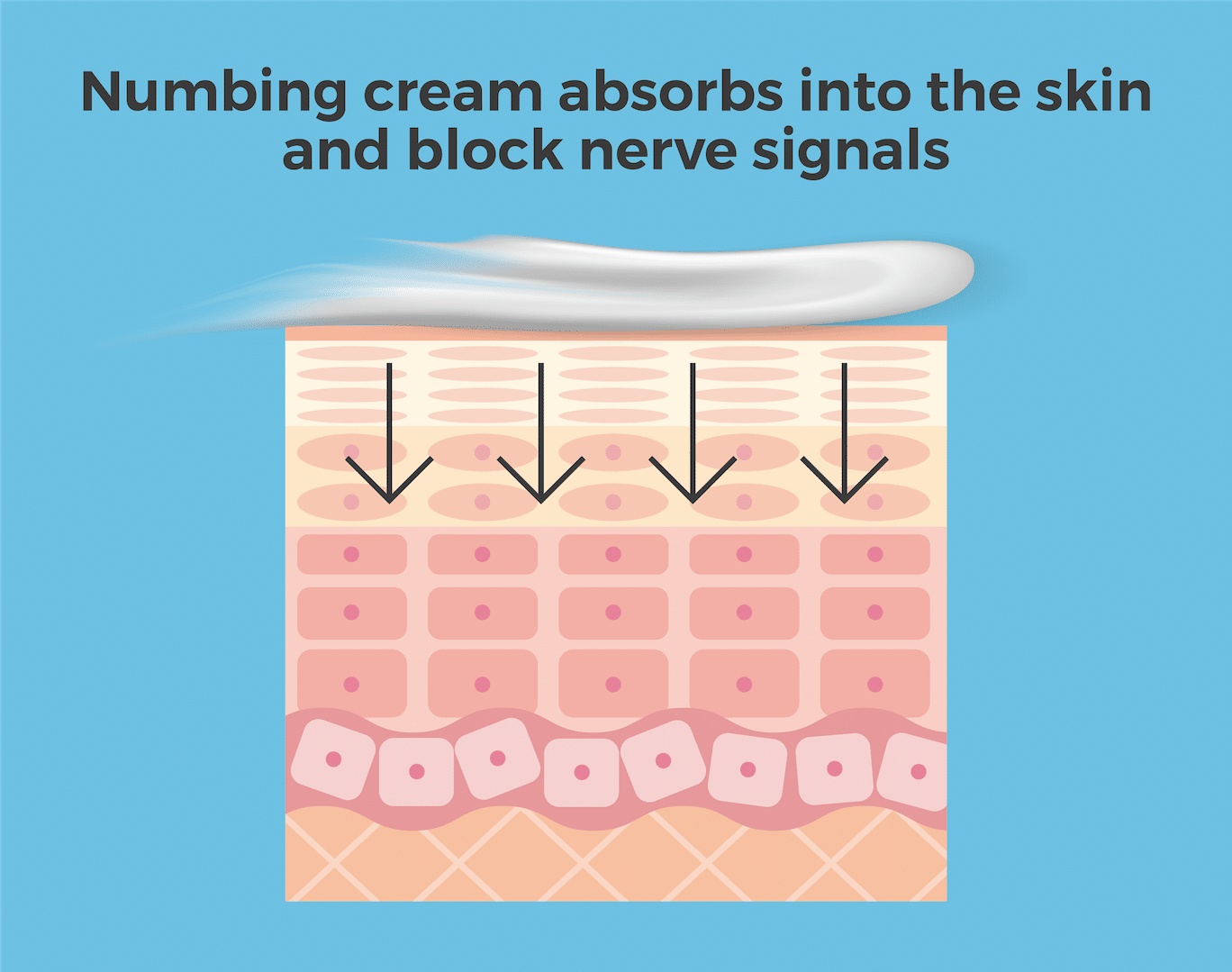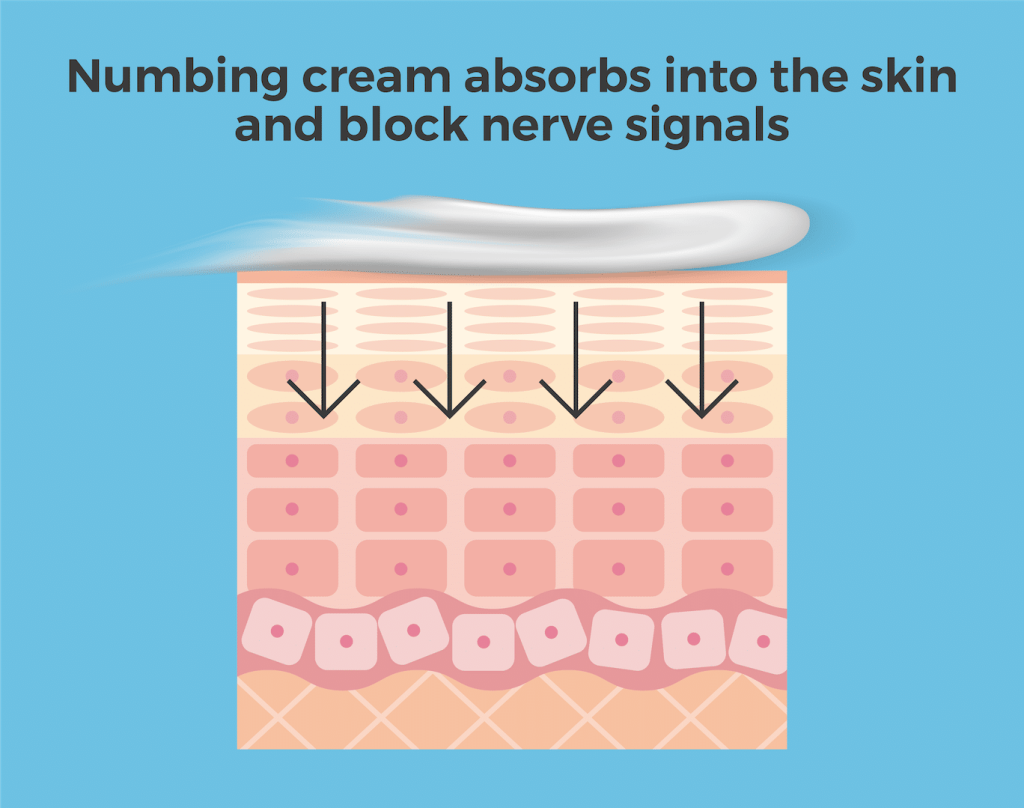 What Type of Numbing Agent Is Used?
The most common type of numbing agent used in numbing creams is lidocaine, but other formulations that use multiple numbing agents are available. 
You may be asking, "Does numbing cream work for laser hair removal?" especially in light of the fact that there's only one numbing ingredient in regular use. Lidocaine is a powerful numbing agent that works quickly and delivers thorough numbing to the area of application.
If you're uncertain about the effectiveness of lidocaine, you can ask for a numbing cream that contains stronger or different ingredients. One type of cream is known as BLT. BLT is short for benzocaine, lidocaine, and tetracaine. It's stronger than a cream that contains lidocaine only, but you may find that you have to order it from a compounding pharmacy. 
Other types of numbing creams are also available through your provider.
How Is Numbing Cream Used During Laser Hair Removal?
Numbing cream is generally used prior to the appointment instead of during the session. You apply the cream to the area of treatment up to an hour before your appointment. This is to give the cream enough time to be absorbed by the nerves and temporarily block their transmission of pain signals.
Some areas of the body are more sensitive, and your provider will direct you to use skin-numbing cream for laser hair removal. The risk of discomfort and pain is a little higher in sensitive places, and skin-numbing cream will prevent you from feeling unpleasant sensations.
Everyone is different when it comes to their ability to experience pain and discomfort, although some areas of the body are more sensitive than others. 
Make sure to discuss your pain relief needs with the provider before your treatment. No one wants you to experience pain or discomfort during your laser hair removal session, and numbing cream is always an option that's available to you.
In some cases, your provider may apply numbing cream for you as part of the treatment process.


Is It Safe to Use Numbing Cream for Laser Hair Removal?
Numbing cream is generally safe to use, but there is always a risk of side effects and reactions, as with any medication. 
The primary action of numbing cream is that of preventing your nerves from reacting to a painful stimulus and transmitting the signals to your brain. The reactions and side effects that come from using numbing cream are mostly neurological in nature. In other words, the signs of a reaction will come from your nervous system. 
Common side effects include:
Tingling or itching sensation

Red or pale skin

Mild swelling
Rare but more serious side effects include:
Cough

Irritation

Fever

Joint pain

Fast heartbeat

Tightness in the chest

Trouble breathing

Hives, welts, itching, or skin rash
You should not use numbing creams if you have a lidocaine allergy, cardiac conditions, or methemoglobinemia. You also shouldn't use numbing cream if you have severe liver disease, as your liver won't be able to metabolize the lidocaine.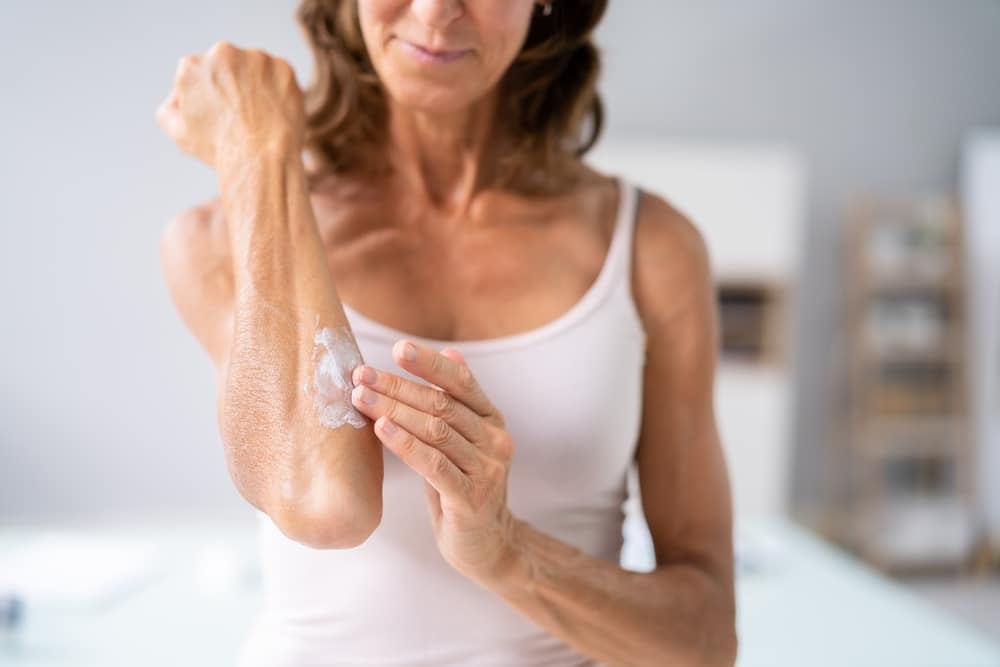 Other Tips for Comfortable Laser Hair Removal
You can also take actions that help you prepare for laser hair removal and experience a minimal amount of discomfort during the procedure. The following laser hair removal tips are for before and after a session:
Don't wax or shave for up to six weeks before your appointment.

Don't take a hot bath three days prior to your appointment, as this can irritate your skin.

Take a pain reliever an hour before your appointment to reduce discomfort.

Wear sunscreen to prevent sunburn and stay out of the sun when possible.

Drink water and avoid drinking anything with caffeine and alcohol in the days leading up to the appointment.

Wear loose clothing that won't bind against the area of treatment.

Don't swim in a pool after your session.

Avoid exercise for a couple of days post-treatment.

Take lukewarm showers afterward.
You will most likely be directed to shave the treatment area 24 hours before your appointment. This may seem in contrast to the general directive to not shave or wax for six weeks, but the laser is more effective on freshly shaved hair. 
Waxing removes the hair down to the root and makes laser hair removal ineffective. Always follow the directions that your provider gives you for the best results and to minimize any potential discomfort.
Redness and mild swelling are normal after treatment. This normally lasts for a day or two, then dissipates. You can resume your normal self-care activities after the swelling and redness have gone away.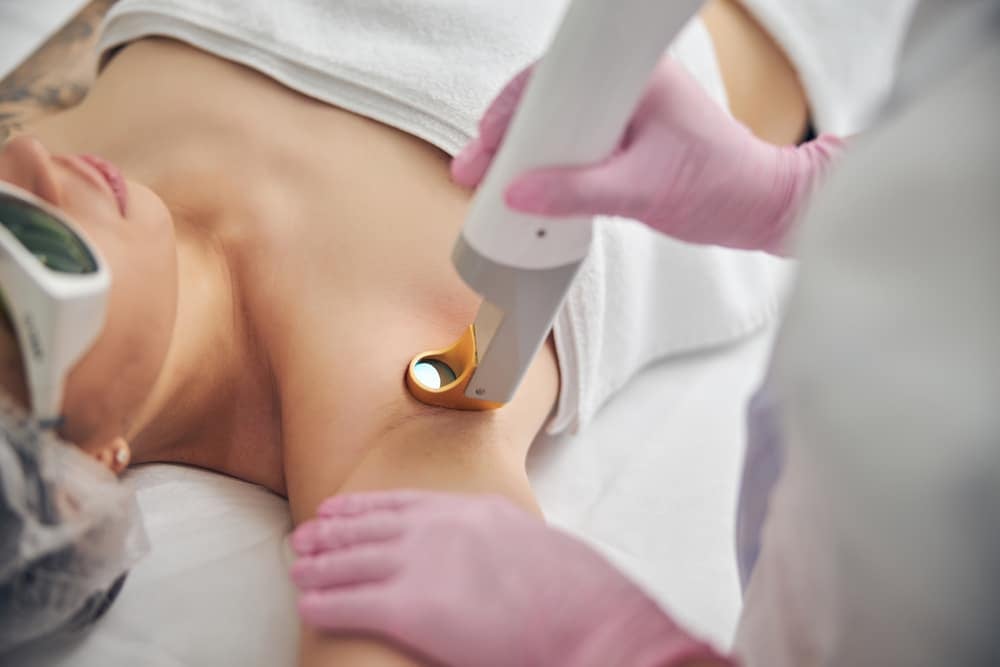 What to Do If You Experience Pain During Laser Hair Removal
In the event you're experiencing pain during the treatment session, bring it up immediately to the practitioner. They can take steps such as adjusting the intensity of the laser or stopping altogether and rescheduling another session.
The practitioner can prescribe numbing cream for you to apply before your next appointment and advise you on what steps you should take to reduce the potential for pain.
Sometimes it happens that you experience a burn, develop blisters, or experience severe pain after a session. If you have any of these issues show up, you should contact the provider to let them know. However, it's also important to see a doctor if you've suffered an injury to get the treatment you need.
Serious side effects from laser hair removal are rare, but they can happen due to unexpected circumstances. Talk to your provider if you're concerned about your treatment; they should be able to talk you through expectations, care, and more.
Start Your Laser Hair Removal Journey
Numbing cream for laser hair removal isn't necessary, but if you have sensitive skin or want to avoid feeling pain altogether, you can ask your provider for numbing cream. Creams to numb the skin use ingredients that are effective and thoroughly numb the skin.
That said, in many cases, laser hair removal is pain-free. This is because many lasers for hair removal have a feature that cools the skin as it heats the hair follicle, alleviating the pain traditionally experienced with this treatment.
At LivSmooth, we provide pain-free laser hair removal services that are administered by certified Nurse Practitioners to deliver the best possible treatment experience and results. When compared to waxing, laser hair removal is painless and more effective.
We also guarantee results for life. So, we provide touch-ups for free if and when you have hair regrowth, which can be sporadic.
Contact us today to schedule a consultation and learn more about what we can do for you. We use the latest in laser hair removal technology, so you can achieve high-quality removal, no matter your hair type and skin color.