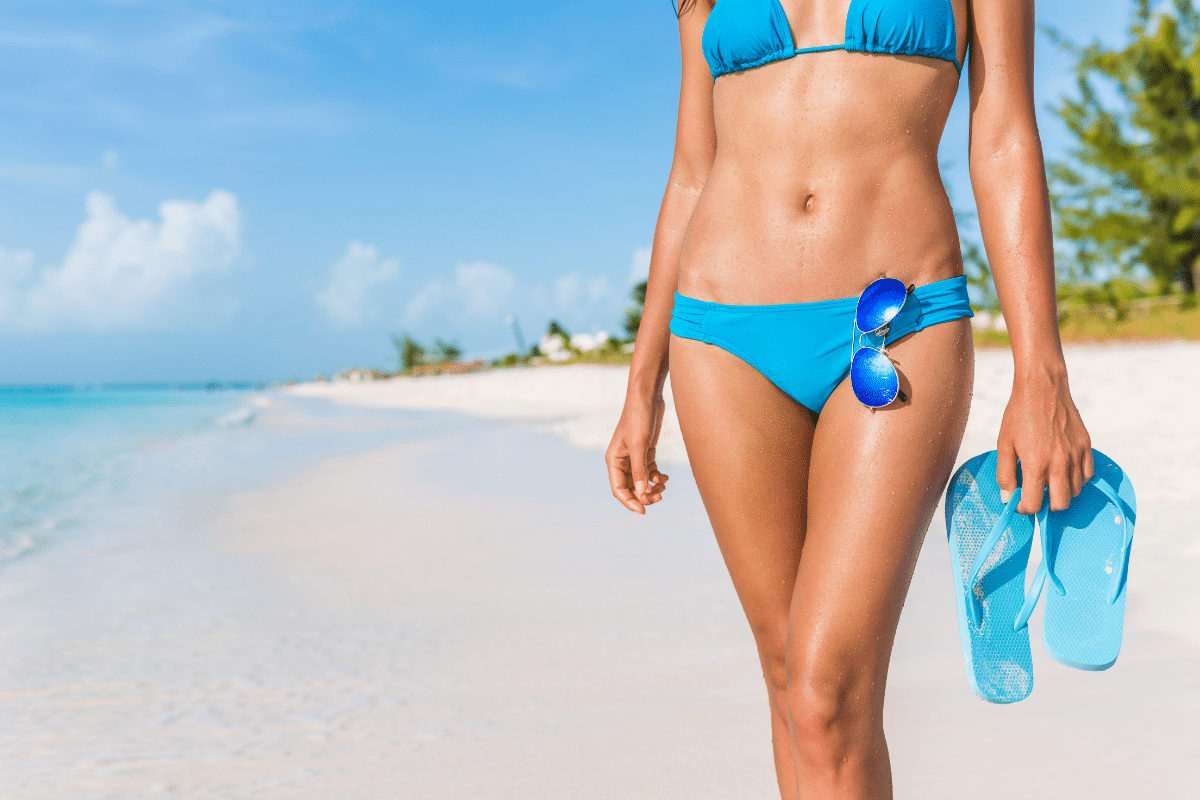 Bikini Laser Hair Removal: Everything You Need to Know
[keytakeaways text="Bikini laser hair removal treatment eliminates the need to shave, wax, or thread, allowing you to enjoy the freedom of a smooth bikini line within a few 10-15 minute sessions. Bikini laser hair removal is safe and painless, although you may experience a little redness and irritation right after treatment."]
Bikini Laser Hair Removal is quickly becoming one of the most popular solutions for painless permanent hair removal. But you may still have certain questions, such as:
How long does the bikini laser hair removal treatment take?
What can I do to prepare for my bikini area treatment?
What else do I need to know?
Don't worry! Our LivSmooth experts are certified Nurse Practitioners with 30 years of experience in the laser hair removal industry. Here's everything you need to know before diving into your bikini laser hair removal treatment.
[bluebanner title="Smooth skin, guaranteed for life." text="Our services are designed to provide lasting results. Learn the LivSmooth difference and take advantage of our lifetime guarantee on your hair removal" link="https://livsmooth.com/about-laser-hair-removal/"]
How to Prepare
Prior to your appointment, stop all hair waxing, plucking routines, depilatory creams, and bleaching in your treatment area. These can destroy the base of the hair follicle that is targeted by our laser. It is also recommended that you wear sunscreen on the treatment area prior to your appointment. We can't treat over a sunburn but we can treat an established tan!
Shave the treatment area at least 24 hours before your appointment. The laser finds the hair below your skin's surface, and external hair follicles may interfere with this process.
Before any of these steps, however, don't forget to book a complimentary consultation below so our experts can assess if you are a candidate for laser hair removal.
How Laser Hair Removal Works
Whether you're at the beach, the pool, or the gym, our bikini laser hair removal treatment will work for you. Our bikini treatment typically takes only 10-to-15 minutes, so you can easily book your appointment during the busy hours of the day, knowing you'll be in and out quickly.
When you show up for your bikini laser hair removal appointment, the nurse will apply ultrasound gel and then glide the laser over your skin where you'll feel a cooling sensation. Our Motus laser lasers use proprietary Moveo technology that goes to the root to destroy the hair from underneath your skin. This laser treatment will damage the hair follicle in the desired area, which inhibits or delays future hair growth. As a result, you never have to worry about stubble, shadow, or scratchiness.
Following Your Bikini Laser Hair Removal Treatment
Laser hair removal is a painless treatment that's proven to be safe and effective. Following your appointment, you might notice a little redness and irritation for the first few hours, although this means that our Motus laser laser did its job. We also recommend that you use a broad-spectrum sunscreen daily between scheduled treatments.
No more waxing, plucking, threading, or shaving with the LivSmooth Guarantee. Our bikini laser hair removal treatment can shorten your showers, expand your wardrobe, and give you a feeling of freedom knowing you don't need to worry about when you last shaved!
[graybanner title="Did You Know?" text="We tailor our hair removal treatments to your needs and can work with every type of skin and hair to give you the results you've always wanted" link="https://livsmooth.com/about-laser-hair-removal/our-lasers/"]
Questions? Contact Our Team!
Keep in mind that these tips should be followed not just before your first laser hair removal appointment, but leading up to all follow-up treatments as well. To achieve the best results, you can expect to require more than one laser hair removal session. The good news? When you book with our team at LivSmooth, you pay one price, and all of your treatments and future touch-ups are included!
If you have any questions on how to better prepare for your bikini laser hair removal treatment, our experienced and knowledgeable team is always happy to help. Since laser hair removal is the leading service we focus on, all of your questions or concerns will be answered with confidence.
Schedule your complimentary consultation with LivSmooth today to get started. We look forward to helping you look and feel more beautiful in your skin!
LivSmooth located in Orlando & Tallahassee.