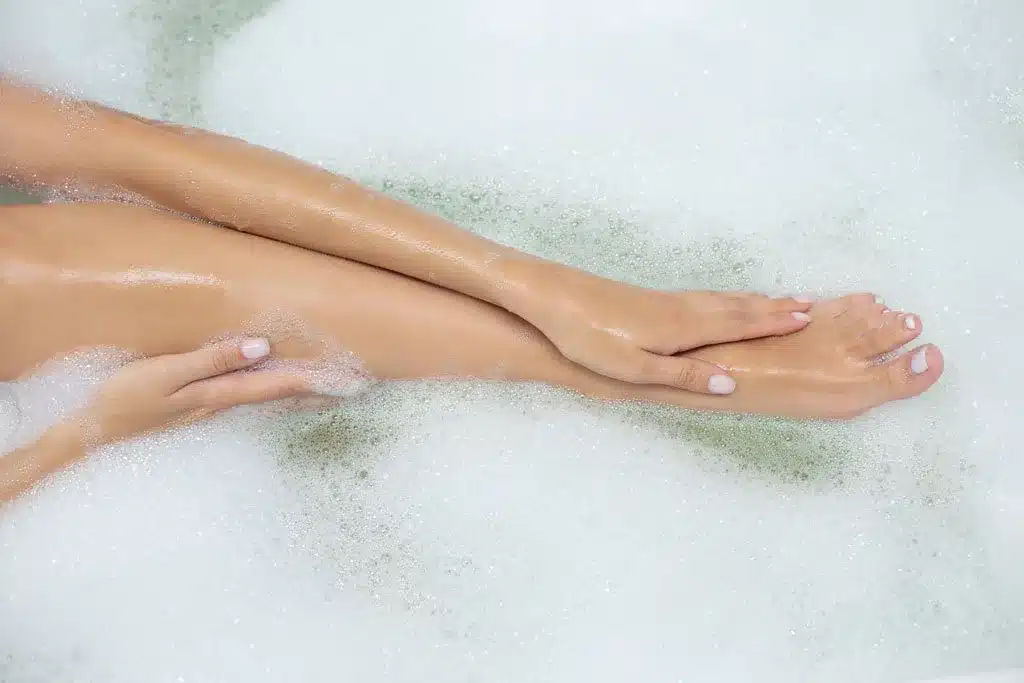 How to Prepare for Laser Hair Removal
[keytakeaways text="To prepare for your laser hair removal treatment, you should bathe or shower before, shave, avoid the sun, and avoid certain topical products. During your consultation, we'll discuss more about any personal preparation needs before treatments."]
Looking for a straightforward, pain-free, and permanent way to remove unwanted body hair? Laser hair removal treatment from LivSmooth is the best option. Using the latest Motus laser technology by DEKA, we're able to perform pain-free laser hair removal that yields incredible results with zero downtime. Also, every treatment in our office is administered by a certified nurse practitioner for your peace of mind. But how do you prepare for laser hair removal?
[bluebanner title="Smooth skin, guaranteed for life." text="Our services are designed to provide lasting results. Learn the LivSmooth difference and take advantage of our lifetime guarantee on your hair removal" link="https://livsmooth.com/about-laser-hair-removal/"]
Whether you've recently scheduled your first laser hair removal treatment with us or are still considering it, we'd like to share some tips on preparing for your appointment:
Arrive Freshly Bathed or Showered
For the best results, we ask that you arrive having recently bathed or showered. It is essential that the treatment area is completely clean and clear of any product, such as lotions or creams. We also recommend that you avoid applying any perfume or other fragrance before your session.
Shave the Treatment Area
24 hours before your scheduled laser hair removal treatment, you should shave the treatment area. This is important because shaving will make it easier for our lasers to reach and successfully treat the hair follicle.
It is vital that the hair follicle is still intact, so please avoid waxing or using chemical depilatory products on the laser hair removal areas before your appointment.
Avoid Sun Exposure
Unfortunately, we are not able to safely treat sunburned skin. However, we can treat an established tan. With this in mind, we highly recommend that you avoid sun exposure to your treatment area in the days and weeks leading up to your appointment. You can do this by wearing a broad-spectrum sunscreen daily and keeping the laser hair removal areas covered up with clothing.
Steer Clear of Certain Topical Products
Some topical products, such as skin cleansers, can cause photosensitivity. For this reason, we recommend that you avoid using any skin products containing specific ingredients in the days leading up to your session. Some examples of elements to avoid include:
Benzoyl peroxide
Salicylic acid
Retinol
Hydroxy acids
Let Us Know About Any Medications
Our team of certified nurse practitioners can tell you if any of the medicines you're taking could cause photosensitivity during treatment. Please let us know at your consultation if you're taking any prescription medications. We may recommend that you consult with your prescribing doctor or physician for further guidance before your appointment.
[graybanner title="Did You Know?" text="We tailor our hair removal treatments to your needs and can work with every type of skin and hair to give you the results you've always wanted" link="https://livsmooth.com/about-laser-hair-removal/our-lasers/"]
Questions? Contact Our Team!
Keep in mind that these tips should be followed not just before your first laser hair removal appointment but leading up to all follow-up treatments as well. To achieve the best results, you can expect to require more than one laser hair removal session. The good news? When you book with our team at LivSmooth, you pay one price, and all of your treatments and future touch-ups are included!
If you have any questions on how to better prepare for your laser hair removal treatment or are looking for more tips, our experienced and knowledgeable team is always happy to help. We have more than 30 years of experience in the industry, and because laser hair removal is the leading service we focus on, all of your questions or concerns will be answered with confidence.
Schedule your complimentary consultation with LivSmooth today to get started. We look forward to helping you look and feel more beautiful in your skin!